EPFR's Quant Analyst Azalea Micottis expands on CFA Institute's article, Frontier and Emerging Markets: Inflection Points.
The blog referenced in this piece emphasizes the importance of using historical relative performance of equity markets for developing robust allocations to regions and informing tactical asset allocation decisions.
View from EPFR
The EPFR Research Team applied a similar intermarket analysis to time series of cumulative fund flows, normalized by total assets, into Emerging, Developed, and Frontier Markets. Per the individual series below, inflows to Frontier Market Equity Funds have outshone those to both Developed and Emerging Markets Equity Funds over the last twenty years. Especially until the end of 2014, money flowing into this market grew quickly, and despite subsequent periods of redemptions, Frontier Market Equity Funds have continued to lead the way.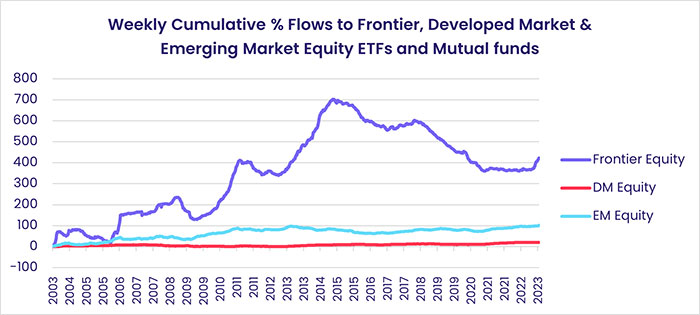 When comparing the spread between cumulative flows to Developed and Emerging Market Equity Funds, one key inflection point is identified in early 2013. Here, the relationship pivoted and allowed developed equity market flows to narrow the gap between those to emerging equities.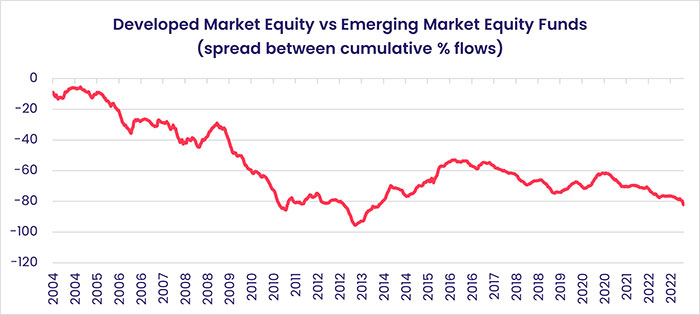 Digging further into the dynamics within Emerging Market sectors – another development point highlighted in the CFA Institute's article – mid-2020 saw a turning point that was followed by over two years of percentage flows to the EM Healthcare/Biotech Sector Funds outpacing overall EM Equity Funds. Recent data, however, shows a sudden reversal in the trend.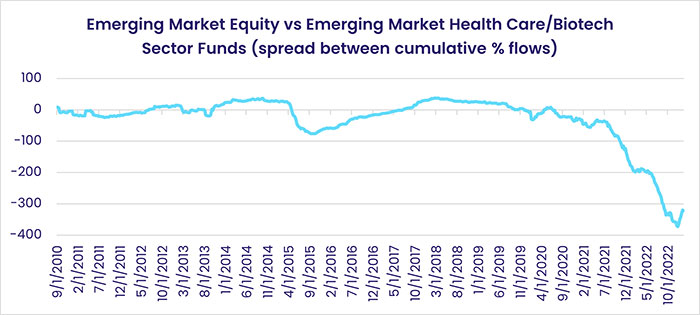 Did you find this useful? Get our EPFR Insights delivered to your inbox.