In this blog, EPFR's Olivia Blaszkowski expands on The Economist's recent article, Could Europe end up with a worse inflation problem than America.
View from EPFR
Post pandemic, the US and Europe have seen prices soar and policymakers have been scrambling to slow the pace of inflation. Europe and the US took different approaches to keeping their economies stimulated during the pandemic, and this article from The Economist discusses how this may affect how each of these economies may bounce back.
If we look at cumulative flow as a % of AuM into Bond Funds for these geographic regions over the last two years, we can gain more insight into investor perceptions of the respective economies and the outlook for inflation. Below you can see the trend of flows, expressed as a percent of assets under management, for US and Europe Bond Funds versus all Bond Funds.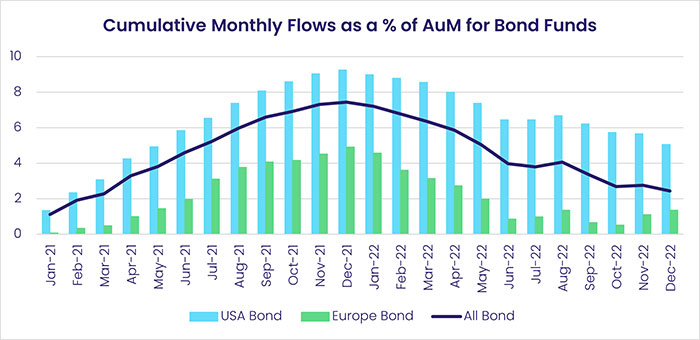 Comparatively, US Bond Funds have been more popular than all Bond Funds and Europe Bonds less popular than all Bond Funds, but each have seen a similar trend: steadily increasing until Dec 2021 and gradually declining thereafter. Both groups both enjoyed inflows in each of the 12 months of 2021, but then in 2022, US and Europe Bond Funds suffered outflows in 10 and eight of the 12 months, respectively.
This is not surprising as interest rates were at ultra-low levels during 2021 before starting to climb in 2022 to combat inflation. Bond prices historically drop when inflation is high, as investors look to offset the decrease in the bond's real value – in terms of purchasing power – by demanding higher yields and anticipate that interest rates will climb. Typically, investors aim to own bond funds when the economy is weak, and they believe that both inflation and interest rates will move lower.
To get a better overall picture of investors thoughts on interest rates, the graphs below show flows for US and Europe Bond Funds broken down by investment duration in 2021 vs 2022.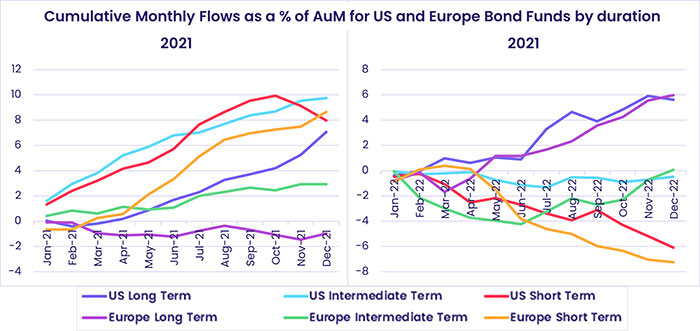 Based on flows into both US and Europe Short Term Bond Funds in 2021, investors expected interest rates to climb – although uncertain of the pace and degree – and avoided the risk of investing in longer-term bonds. Last year, however, saw opposite behaviour as investors exited US and Europe Short Term Bond Funds and bought into Long Term Bond Funds.
The flows in 2022 suggest that investors do, in the short run, see greater inflationary risks for Europe than the US. But, further out, they see European inflation dropping to US levels.
Did you find this useful? Get our EPFR Insights delivered to your inbox.