When it came to driving money in and out of mutual funds during the third week of January, the possibility that the US Federal Reserve could hike interest rates sooner and higher had a bigger impact than the prospect Russia will take military action against the Ukraine.
With rumors flying that the Fed might not wait until its March meeting to start tightening, that it could kick of the cycle with a 50 basis points increase and that as many as five hikes are on the table in 2022, investors acted. US Bond Funds posted consecutive weekly outflows for the first time since late 1Q20, US Equity Funds experienced net redemptions for only the third time since mid-August and US Money Market Funds chalked up their biggest weekly outflow on record. Funds dedicated to risk assets such as emerging markets debt, high yield debt, technology plays and cryptocurrencies also saw money flow out.
Meanwhile, despite fears that Europe may be on the brink of armed conflict between Russia and the Ukraine, flows into Europe Equity Funds hit a 31-week high, Russia Equity Funds recorded their biggest inflow since mid-November and Energy Sector Funds took in fresh money for the fourth straight week.
Overall, the week ending Jan. 19 saw EPFR-tracked Equity Funds post a collective inflow of $10.9 billion while Balanced Funds absorbed $705 million and Alternative Funds took in $1.3 billion. Investors pulled $3.1 billion out of Bond Funds and $83.7 billion from Money Market Funds. In the case of Money Market Funds in China and the US, new rules are being proposed that in both cases could – if implemented — add to the pressure on the business models of these liquidity vehicles.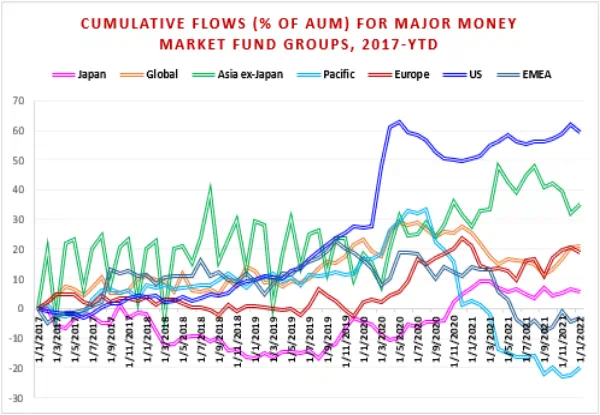 At the single country and asset class fund levels, Finland Equity Funds posted their biggest outflow since 2Q12 and Netherlands Equity Funds their biggest inflow on record. Flows into Vietnam and Saudi Arabia Equity Funds hit 26 and 130-week highs, respectively, while India Equity Funds recorded their biggest weekly inflow in over three quarters. Bank Loan Funds chalked up their biggest inflow since 1Q17, Municipal Bond Funds saw a six-week run of inflows come to an end and Convertible Bond Funds racked up their ninth straight outflow.
Did you find this useful? Get our EPFR Insights delivered to your inbox.