For much of 4Q21 and the year-to-date, investors looking for a degree of security – especially in the emerging markets space – have turned to China. Between September of last year and the first week of March investors steered over $50 billion into EPFR-tracked China Equity Funds and another $11 billion into Greater China fund groups.
That trend hit the buffers during the third week of March as the combination of rising US interest rates, signs of stress in China's technology sector, fresh outbreaks of Covid and the questions posed by China's refusal to condemn Russia's invasion of Ukraine prompted investors to revisit their assumptions. Redemptions from China Equity Funds hit their highest level since the first week of 2021 and outflows from China Bond Funds exceeded $1 billion for the first time ever.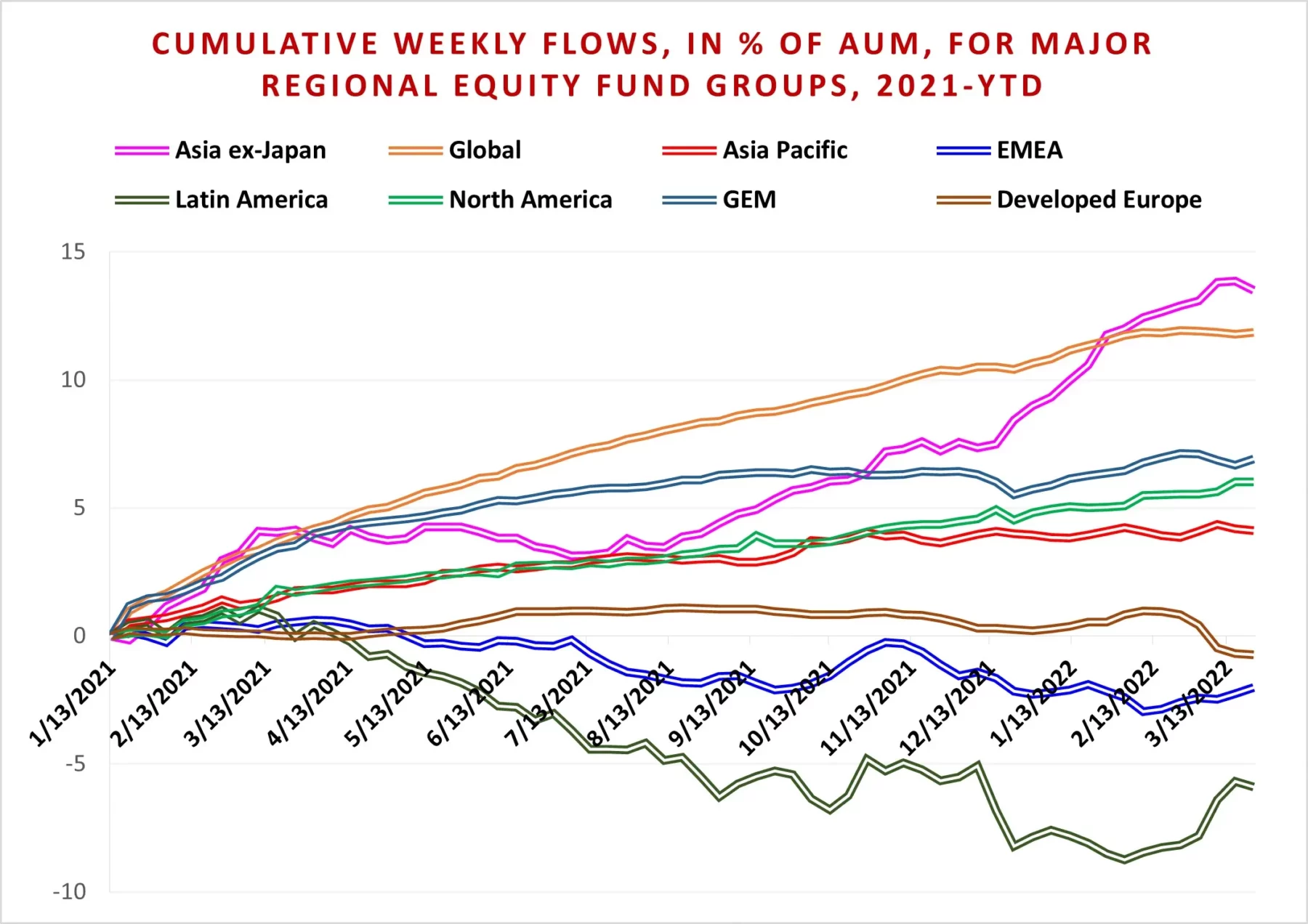 The combination of war in Europe, rising Covid caseloads in key markets and the start of the US Federal Reserve's latest tightening cycle weighed on other fund groups. US Equity and Bond Funds both recorded modest outflows, Europe Equity Funds extended their current run of outflows and year-to-date redemptions from High Yield Bond Funds climbed past the $35 billion mark.
Overall, investors pulled a net $208 million out of EPFR-tracked Bond Funds during the week ending March 23, while Equity Funds experienced net redemptions of $2.9 billion despite flows into funds with socially responsible (SRI) or environmental, social and governance (ESG) mandates snapping back to a five-week high. Balanced Funds absorbed $751 million, Alternative Funds $4.3 billion and Money Market Funds $13.2 billion.
At the asset class and single country fund levels, Brazil Equity Funds chalked up their biggest outflow since early February, flows into Chile Equity Funds hit a level last seen in 3Q13 and all of the Country Funds dedicated to Europe's 'Frugal Five' markets recorded an inflow. Investors pulled money out of Convertible and Mortgage-Backed Bond Funds for the 18th straight week, High Yield Bond Funds extended their longest outflow streak since 1Q18 and Cryptocurrency Funds saw flows rebound to a 17-week high.
Emerging Markets Equity Funds
Geopolitical forces unleashed by the war in Ukraine added to the pressure on emerging markets, which are also coping with the uncertainty generated by inflation, supply shocks, Russian sanctions, high oil prices and the Covid virus's ability to mutate. These factors, and more, contributed to the second straight weekly outflow for EPFR-tracked Emerging Markets Equity Funds, which previously had enjoyed 12 straight weeks of inflows. Of the four major regional groups, only two saw fresh money flow in during the week ending March 23 – EMEA and the diversified Global Emerging Markets (GEM) Equity Funds — as investors cooled towards China, Brazil and Mexico.
The biggest contributor to the week's headline number was the more than $3 billion pulled out of China Equity Funds as investors responded to the latest sell-off in Chinese markets. Despite pulling in significant amounts of fresh money, this fund group is the worst performer year-to-date among the major Asia ex-Japan Fund groups as regulatory, geopolitical and epidemiological issues unnerve investors.
One of the better performing AxJ groups, Vietnam Equity Funds, are dedicated to a market that now accounts for a fifth of the average Frontier Markets Equity Fund portfolio.
Latin America Equity Funds, meanwhile, saw their six-week run of inflows come to an end after Brazil's central bank hiked its key interest rate for the ninth time in a row. It now stands at 11.75%. Investors found more to like about Chile, with funds dedicated to the Andean nation recording their biggest weekly inflow since 3Q13 on the heels of new President Gabriel Boric taking office. Boric's agenda is aimed at expanding environmental protections and social programs, engineering a transition to green energy and reducing inequality.
Among the major EMEA Equity Fund groups, those dedicated to Saudi Arabia and South Africa received more attention as investors continue to seek alternatives to Russia's commodities and energy stories. Saudi Arabia Equity Funds attracted fresh money for the fifth straight week by posting their third largest inflow of the year and South Africa Equity Funds pulled in another $16 million this week.
Did you find this useful? Get our EPFR Insights delivered to your inbox.