The VIX is in…
Funds offering exposure to the most widely followed measure of US equity market volatility, the Chicago Board Options Exchange's CBOE Volatility Index (VIX), are seeing a surge in flows as investors pencil in a much bumpier ride in 2021 than they've experienced since the 2008-12 post-financial crisis period.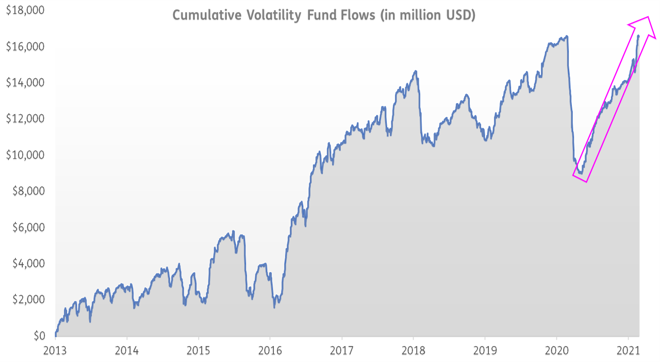 Fears that global reflation will trigger higher-than-expected inflation, growing appetite for emerging markets exposure and the surge in retail involvement are among the factors fuelling this reassessment of likely volatility.
On the surface, fear of volatility is running ahead of market – or realized – volatility. But analysis by EPFR, which will be discussed in future segments, suggests that by other measures underlying volatility is indeed picking up at a time when receptiveness to central bank guidance and actions is diminishing.
Did you find this useful? Get our EPFR Insights delivered to your inbox.