A coronavirus epidemic centered in China put global equity markets on the defensive in late January and prompted Chinese officials to suspend trading on the Shanghai and Shenzhen stock exchanges. But the impact on flows to EPFR-tracked Equity Funds was mixed. Emerging Markets Equity Funds recorded their first weekly outflow since mid-October and redemptions from Asia ex-Japan Equity Funds hit a 16-week high. Overall, however, Equity Funds posted their fourth inflow in the past five weeks as China, Canada and Japan Equity Funds attracted fresh money and the diversified Global Equity Funds chalked up their third largest inflow on record.
The week ending Jan. 29 also saw Europe Equity Funds chalk up their third largest outflow since mid-October. In addition to the broad concerns about the impact of the Wuhan coronavirus, political uncertainty in key markets prompted investors to pull back.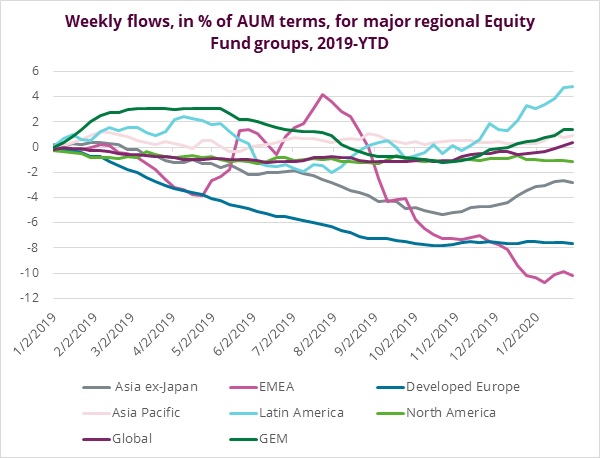 Did you find this useful? Get our EPFR Insights delivered to your inbox.